Odoo Services
Our top-notch Odoo services are exceptional and the most affordable for every budget. With a tech team blessed with a combination of experience and expertise, we here at Sitaram Solutions provide the best quality ODOO specific development services. We help business all around the world ranging from the scale of SME's to 'Skyscrapers as branch offices' type of organizations to effectively run their company so that they can solely on doing what they actually 'want' to be doing, rather than spend hours on hours on tasking documentation jobs like accounting, HR, Sales, etc.

odoo consultation
ODOO being an open-source ERP management system is one of the fast-growing & implemented systems with more than 2 M
Learn More >

odoo implementation
Let us implement odoo to your business and achieve the organizational goal.
Learn More >

odoo integration
An organization needs third party applications in order to manage varied domains like finance, sales, marketing, and more.
Learn More >

odoo migration
When technology is concerned, upgrading & migrating tech systems has become mandatory in order to compete with your fast-growing competitors.
Learn More >

odoo development
ODOO being an open-source business application platform is an integrated system from HR, Finance, CRM, and more.
Learn More >

odoo support
An organization always faces data mismatch, data mishaps through human errors, or other circumstances which leads to interruption of workflow.
Learn More >
We have served varied Industries across the Globe
There are several different businesses that are working efficiently in today's market while Sitaram Solutions specifically provide an exclusive odoo services like development, implementation, consultation, migrations, integrations and support.
Restaurants
Sitaram Solutions has been constantly serving Restaurant industry through ODOO ERP through plug & play applications to customized POS.
Tours & Travels
We have served tours & travel industry through ODOO features like accounting, CRM & more. We also delivered mobile apps for the same.
Ecommerce
We have served the eCommerce industry by constantly delivering e-commerce website by integrating ERP with the same.
Rental
We have served rental business through ODOO application from customised to ready-made installations.
Education
From website to ODOO CRM, we have served educational institutions through our ODOO features.
Pharmacy
From managing billing to inventory, we have served pharmacy industry through ODOO applications & mobile apps.
Connect with us today to implement and integrate ODOO ERP and make your Business grow digitally!
Contact Us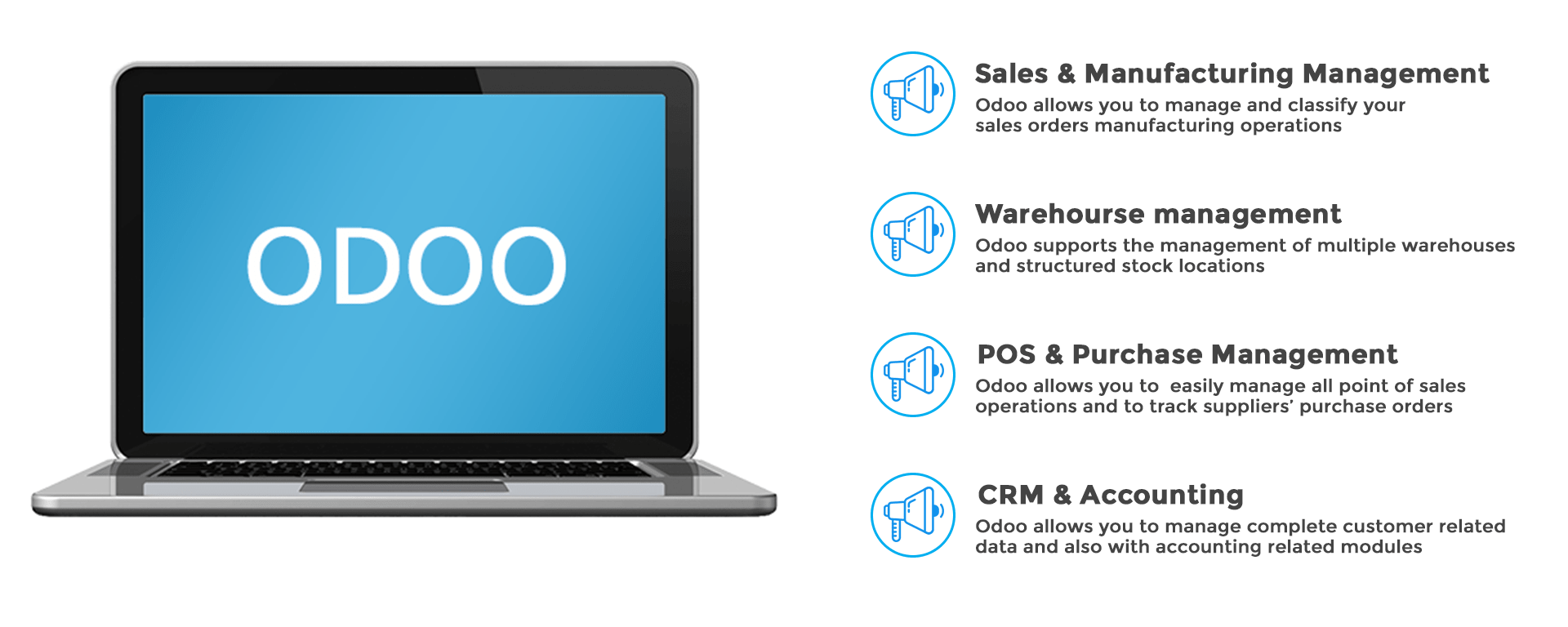 Lastest News
Odoo blogs and articles